Shipping Policies
Free shipping is standard on orders totaling at least $100.00.
$9.99 Flat shipping fee will be applied to orders totaling less than $100.00
Currently, we cannot ship to Alaska, Hawaii, and Canada. We do not currently ship to international addresses. If you would like to arrange your own shipping for one of these designated areas, please contact one of our customer service representatives to place your order and provide the shipping information.
Pontoon Trailers
Pontoon Trailers do not ship for free. These are pick up only in Mishawaka, IN. If you are picking up in Indiana, we do have to charge sales tax.

We do allow professional hauling
company's
to pickup trailers, we will need notice of their arrival. They will need the proper paperwork in order for you to be tax exempt. If they do not have the proper paperwork we will charge 7% Indiana Sales Tax. If you are a customer from the state of Michigan, you will be charged Indiana Sales Tax regardless if you are picking this up or using a hauling company.
If for any reason an order is missing after it has been shipped to you, you must contact us immediately. Fedex will do their best to search for the package(s). If the package does indeed come back as lost, we will file a claim on your behalf with Fedex and ship out a new product. These claims can take up to 14 days. If your order has shipped and delivered and you contact us after 7 days after delivery and say that it has not delivered. We can file a claim however due to Fedex shipping policy we are not responsible for any missing packages after delivery.
Marine grade plywood
,
complete decking kits
, and dock boxes must be shipped via Freight Line. Our freight carrier will deliver to a residential address if necessary for an additional fee. We recommend shipping items to a business location or freight terminal in your area for pickup. It can be difficult to remove these items from the rear of the truck on your own. If you are having the items shipped to your home, we recommend having some additional help when unloading.
Below is the Fedex Transit Map for all items shipping out of Mishawaka!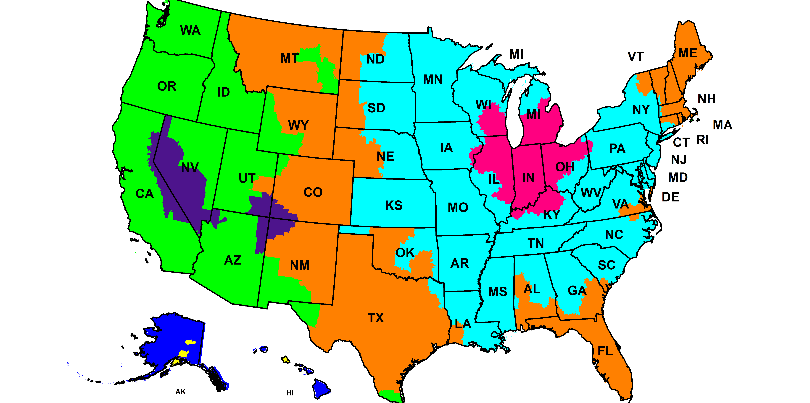 ***IMPORTANT***

**All items (marine carpet, marine vinyl flooring, boat parts, boat hardware, marine glue) listed on this site will ship for FREE. You never have to qualify for FREE shipping on our sites. Every single product except for our sheets of Marine Plywood will ship for FREE no matter your purchase total.**
***For our customer's convenience we offer Fast, FREE shipping on most all of our products via UPS Ground. For these products our Fast, FREE shipping can only be offered when the item that you have purchased is shipping within the continental USA. However, we welcome international shoppers and will happily ship any of our items to destinations outside the continental USA for an additional shipping charge.***
---
Tracking Information:

Once your merchandise is ready to be shipped we will update your account as well as send you an email with all of the tracking information. You may then track the progress of your shipment by visiting FedEx Tracking and providing your tracking number into the required field.

---
Marine Grade Boat Carpet:
Our rolls of Marine Carpet will typically be ready to ship (from our manufacture) within 3-5 business days after placing your order. However, during certain busy times of the boating season the time frame needed to get your roll of boat carpet ready to ship may increase. This will usually be the case right before and during major holidays. We understand that you will need your marine carpet before you can finish putting your boat back together. We will always do everything in our power to get you your marine carpet as fast as we possibly can. On average, our customers have been receiving their roll of marine carpeting in 5-10 business days from the time their order has been placed.

*100ft. rolls ship freight, if you decide to return you are responsible for the shipping and a 15% restock fee*

Free Shipping on all Boat Carpet Rolls and Boat Carpet Kit Orders!
---
Inspecting your New Boat Carpet:
Your roll of boat carpet will be packaged in a 6 mil heavy duty plastic. Please be very careful when opening the roll of marine carpeting as it cuts very easily with a razor knife. Unroll your new boat carpet and inspect it for any imperfections.
---
Damaged Merchandise:
Please contact us immediately if your merchandise arrives damaged.

You must contact us within 21 business days of receiving a damaged order. This is the deadline that we are given to file your damage claim. If you wait longer than 21 days, we will need to charge a 15% replacement fee, because of the additional cost to us.

In order for your damage claim to be processed as quickly as possible, please e-mail us a photo of the damaged merchandise to the e-mail address listed below. For further instructions on damaged items procedures, please contact us by phone @ 866-237-0075 or by e-mail at customerservice@restorepontoon.com
**Note**

Please be very careful when opening your roll of carpet or box of glue, as we cannot be responsible for damage caused by cutting open the heavy duty plastic wrap or cardboard boxes. Any marine carpet or marine carpet adhesive damaged during unpacking cannot be returned for a full refund.

IF YOU NEED TO CANCEL AN ORDER YOU MUST CONTACT US IMMEDIATELY as you will be responsible for all costs associated with restocking and rerouting the merchandise after it has been shipped. If you refuse delivery after placing your order you are responsible for all fees associated with rerouting the merchandise to and back to us.
---
Boat Carpet Adhesive:
Our marine grade carpet adhesive ships separately from our rolls of marine carpeting. Orders for our boat carpet glue placed before 2pm (EST) will be shipped that same day. Orders placed after 2pm (EST) will be shipped out the following day.
Marine Grade Hardware:
Orders for our marine hardware placed before 2pm (EST) will be shipped that same day. Orders placed after 2pm (EST) will be shipped out the following day.
Marine Plywood Flooring:
Our marine plywood must ship via freight to your home or business. Please feel free to contact us if you have any questions.(866.237.0075)
Storage of Boat Carpet Adhesive:
Upon arrival of your boat glue, store your boat adhesive inside and away from freezing temperatures. Please do not let your boat glue freeze or get cold as the recommended temperature to apply your boat glue is above 60 degrees. If your boat adhesive has been applied to your boat carpet, it can not be returned for a refund. Also do not let your newly installed boat carpet set out in the rain. This will stop the curing process and you may have to re-install new boat carpet and glue.
Returns:
At RestorePontoon.com we take pride in our products and we want you to be completely satisfied with your purchase. We will gladly refund or exchange most merchandise for any reason within 30 days from the original purchase date. Items returned after 30 days from the original purchase date will be charged a 10% restocking fee.

To return, please send merchandise prepaid in its original unused condition to our address listed below. We will then exchange the merchandise or refund the merchandise amount by the original payment method. Customers are responsible for the shipping costs for returns and/or exchanges.

All items returned in a non-re-sellable condition, or with missing parts will be charged a restocking fee upon inspection at Boat Carpet Central's discretion. There are no returns for special order items, custom cut carpet lengths, electronics or hazardous materials, such as, but not limited to, paint, oil, resins and adhesives.

Our standard cut lengths of carpet are 16', 20', 25' and 30' any other cut length is considered custom/special order and is non-returnable and non-refundable.
International Shoppers are Welcome:
Boat Carpet Central welcomes international shoppers. There are additional costs for shipping, duties and taxes. Please contact our customer service department by phone or email so we can determine a proper shipping quote for you. (866-237-0075)
Alaska and Hawaii Shoppers are Welcome:
Boat Carpet Central welcomes order from Alaska and Hawaii. There are additional costs for shipping. Please contact our customer service department by phone or email so we can determine a proper shipping quote for you. (866-237-0075)
---
Sales Tax !New!
We are required to charge sales tax for all orders in Indiana because our office is located in Indiana. As of October 1, 2018, we are also required to charge sales tax to the following states due to new laws recently passed: IL, MI, MN, NC, WA and WI. More states will be requiring sales tax soon - please call us if you have any questions. By placing an order with us - you agree to all of our terms and policies including the shipping policies mentioned above.